Striv Sports Play-by-Play Certification Course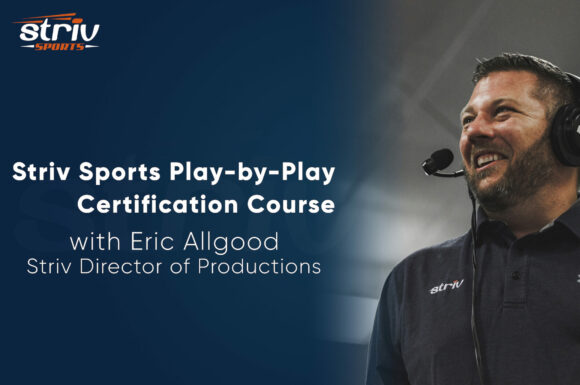 About Course
If you watch other high school sports live streams, you quickly realize the importance of a quality announcer. Too many times, an untrained voice squeaks out in excitement, mispronounces a name, or talks more about the latest celebrity gossip than the game on the screen.
The Striv Sports Play-by-Play Certification course can give any of your students the foundation to bring a solid commentary to any of your school's broadcasts. Over 18 years and more than 1,100 games of broadcast experience provide the backbone of this course.
The course is video-based and should take your students 20-30 minutes to complete. There are quizzes and resources to guide them through. When complete, each student will receive a certificate of completion, with their contact information shared with our Striv team to help us identify those most qualified to help at Striv Sports productions and NSAA State Championship events.
Teachers and school administrators have enough to worry about besides what a student says during a live stream. Untrained students don't know how to navigate exciting moments, close calls by officials, injuries to players or a number of other situations. 
Empower your students by giving them a basic understanding of quality announcing and the impact it has on your school's broadcast. Your students will thrive when they start with a solid foundation from this course, and more experience will help them grow into possible careers in the field.
Show More
What Will You Learn?
What To Do Before The Game

What To Do When You Arrive At The Game

How To Prepare For The Game

How To Talk Behind The Mic

Executing The Broadcast
Course Content
Introduction
Introduction to the course
Before the game
Arriving at the game
Quiz #1
Preparation
Behind the mic
Quiz #2
The Broadcast
Quiz #3
Completion
Student Ratings & Reviews